While blog hopping I came across the Kind Hearted Blogger Button on Seven Cherubs…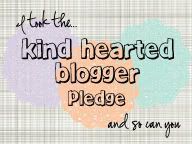 I clicked on it to see what it was all about and came across a beautifully written post by Jo_Annie about pledging to be a kind hearted blogger. We are all here for the same reason so why not be nice and help each other reach our goals, and aspire to be better people. I personally have not experienced negativity and really hope that I never do!! I want my blogging experience to be positive, healthy, and a growing experience (which so far it has – with special thanks to Summer, & Tammy!!).Please read Jo_Annie's post and her Kind Blogger Friend Lindsay's post on kindness too!!  I hope that each of you take the Kind Hearted Blogger Pledge and join the campaign!!
AS A KIND-HEARTED BLOGGER I PLEDGE TO:
• create, inspire, and admire rather than compete with fellow bloggers
• be understanding of each other– in the blogging community, as well as in the world
• stay away from internet/blogging bullying
• speak my opinion freely, while still being mindful of other's feelings– be tactful.
• make an effort–no matter how big or small the gesture, to spread kindness or joy to others
• acknowledge that I will make mistakes, (I am only human) but remember to learn from them
• know that at times I will post about the negative stuff in life, and maybe even some complaining (I am only human) but I will always follow up with something happy/positive too.
• believe that this world is a good place, filled with good people.
PLEASE note that I linked to the above blogs because they are great people and writer's so stop by check them out, follow if you like, and leave a comment for them : )
We hope you have a wonderful day and be KIND to one another!!