For more Post It Note Tuesday & Link Up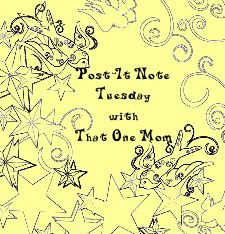 Also it's DAY TWO of  Holiday Fun For All…

Today's theme is BEST DECORATING TIPS…
Well I'm not much of a decorator that is more my sister (aka Martha Stewart Jr.) and mom… I grew up with our house looking like a page out of BH&G!!  I believe that decorating should be personal and meaningful! As long as you decorate with that in mind I think it will be warm and welcoming!!
For more decorating tips visit Tammy's Two Cents and Link Up!
Here is the list for the rest of the week:
Dec 8th Day THREE: Favorite Holiday Food Dishes
Dec 9th Day Four: Fun Holiday Crafts
Dec 10th Day Five: Share Your Holiday Traditions
Happy Holidays!!