Source: Author
Reading level: Young Adult
Format: Kindle Edition
File Size: 359 KB
Publisher:
Metal Blonde Books (May 12, 2011)
Language: English
ASIN: B0050Q6HQK
SU

MMARY:
There's always been something a bit off about Perry Palomino. Though she's been dealing with a quarter-life crisis and post-college syndrome like any other twentysomething, she's still not what you would call "ordinary."
For one thing, there's her past which she likes to pretend never happened, and then there's the fact that she sees ghosts. Luckily for her, that all comes in handy when she stumbles across Dex Foray, an eccentric producer for an upcoming webcast on ghost hunters. Even though the show's budget is non-existent and Dex himself is a maddening enigma, Perry is instantly drawn into a world that both threatens her life and seduces her with a sense of importance. Her uncle's haunted lighthouse provides the perfect catalyst and backdrop for a horrific mystery that unravels the threads of Perry's fragile sanity and causes her to fall for a man, who, like the most dangerous of ghosts, may not be all that he seems. 
This is Karina Halle's debut novel (the 1st in the Experiment in Terror Series) and I am hooked!! Initially it was slow reading for me as the plot developed and thickened but it picked up speed and I didn't want it to stop. Karina has a very unique writing style, her descriptions are vivid and intellectual. 
You can definite relate to the main character- Perry, especially her insecurities and fears.
The the dynamic between Perry and Dex is very real, so much so that you just want to yell at them sometimes due to the attraction and sexual tension between them.
They have a unique relationship that you *think* you know just where it will end up…
The "ghost hunter" aspect of this is very interesting to me because I have always been intrigued by this topic. Karina writes about it in a horrifying but realistic page turning way! I would definitely recommend this book and can't wait to read the next installment in the Experiment in Terror Series.
MY RATINGS:
♥
♥
♥
♥
4/5 Hearts: Really Great Read
You can purchase Darkhouse by Karina Halle on 
Amazon
 
Smashwords 
Barnes & Noble 
Get to know Karina Halle 
Blog
Website
Twitter  
Facebook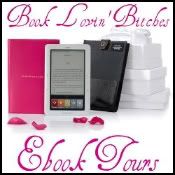 You can check out the rest of Karina Halle 's Darkhouse Book Tour
HERE
DISCLOSURE: I was given the opportunity to review Darkhouse  by Karina Halle
through Book Lovin' Bitches E-Book Tours. I was provided a  copy of Darkhouse by Karina Halle  for review purposes only.  I was not compensated to write a positive or favorable review. This is Keeping Up With The Rheinlander's personal opinion.